Ellen Lance - Pet Psychic
Animal Communicator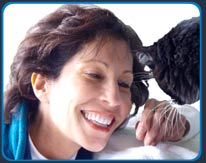 Ever wonder what your animal is thinking?
I have the ability to communicate with your animals – those who are present, as well as those who have passed on.
I can also work with you and your animals to identify and dissolve any emotional and / or spiritual causes of the behavioral and physical issues you are concerned about.
Physical healings may also occur but they are incidental to the spiritual work I do.
When the correct underlying spiritual / emotional block is released, I believe that any medical treatment used in conjunction to help your pet is also enhanced.
I am highly skilled in long distance animal communication, which saves you the expense of meeting nose-to-nose! These same abilities also enable me to help you communicate with a pet which has passed on.